After the City Council decided not to go ahead organising the festival in 2014, the newly formed community group Cambuskers, headed up by Heather Bevan Hunt, approached the council to run the festival and, within 2 months, raised the sponsorship money needed and put in place the organisation to keep the festival going.
In 2014, the festival was supported by:
Millers Music Centre
The Earl of Beaconsfield
Cambridge Dutchbikes Ltd
Cambridge Bid
Brookgate Ltd
d'Arry's Cookhouse and Wine Shop
The Six Bells
Cambridge City Council
Cambridge 105
Cambridge Newspapers
The variety of acts created a wonderful ambience in the city throughout the festival. Cambuskers brought musical workshops to Millers Music Centre in Sussex Street on the 16th and 17th August and there was a competition for local acts on Saturday 16th August at Christ's Pieces.
The Mayor, Cllr. Geri Bird, officially opened the festival on the steps of the Guildhall on Friday 15th August, followed by music from some of our most talented local singer/songwriters, with a special performance from the 2013 festival winners, husband and wife duo Ain't Misbehavin'. Cambridge 105 compèred the first hour which was broadcast live.
As well as performances on the city centre streets and Christ's Pieces, there were performances at, d'Arry's Cookhouse & Wineshop in King Street, The Earl of Beaconsfield in Mill Road and the Six Bells in Covent Garden.
Youth triumphs at Cambridge Buskers Festival 2014!
The winner of the Cambridge 105 sponsored prize at the Buskers Festival for Best Adult Musical performer was, Tom Korni who is just 16 years old. Tom and his one-boy band beat off strong competition from the likes of singer songwriter Rachel Clark; the powerful voice of Lucy Black; acoustic comedy singer songwriter "Easily pleased"; alternative hip hop duo "Rhetoric and Banks" and 60's music specialists "Still Seeking".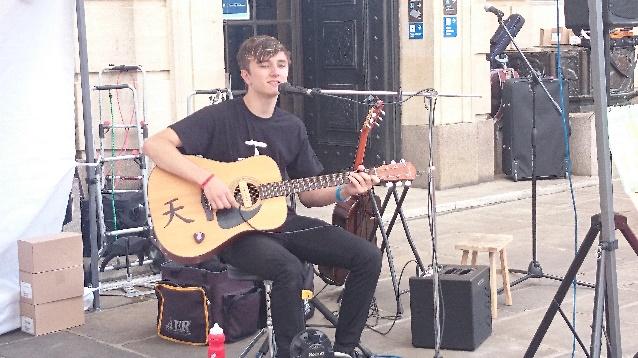 Tom gets to perform on the 'Shellac Collective Stage' at Bestival, or Camp Bestival this year.
The Under 16's Young Performer's prize sponsored by Miller's Music Centre, went to the talented 15 year old Saxophonist Robert Burton, who walked away with a new Roland Micro Cube: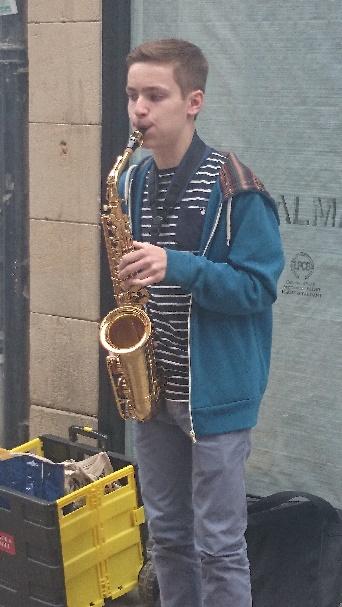 The winners were announced at the Busker's Festival party at the Earl of Beaconsfield.